Spring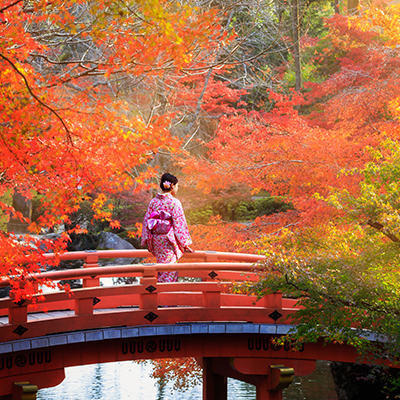 Spring is said to be the most beautiful time to visit Japan. With Spring, Japan welcomes the season of hiking, the soothing climate change, and the natural wonder of cherry blossoms! To sum up, here are a few reasons why we love Spring in Japan.
Cherry Blossoms!
"Light as feathers, as fleeting as Zephyr, one moment they breathed pink, the next they faded. Cherry blossoms were as much an inspiration for beautiful verse as they were a reminder of life's fickleness, she thought." ― Alice Poon, The Green Phoenix
Cherry blossoms are undeniably the best part of Springtime in Japan. The beauty and vibrance of these pretty pink flowers add magic to the country's landscape. Hanami, the Cherry blossom viewing, is the most popular activity in Japan.
Green Tea Plantations
Spring is the ideal time to visit the amazing green tea farms near Mount Fuji, Japan. The picking starts during May. However, right before that, the breathtaking views of the green stretches of tea plantations will leave you awestruck.
The Queen of Spring Fruits – Strawberries!
Spring is also the season of strawberries in Japan. Some delicious varieties of strawberries like Amaou and Tochiotomeare with big, juicy, and really sweet fruits grow here. Strawberry picking and tasting are a few of the most interesting activities in Japan. 
Flower Festivals
Apart from Cherry blossoms, many other beautiful flowers like Blue Nemophila, Wisteria, Pink Moss, etc. bloom in Spring. The season witnesses some of the greatest flower festivals in Japan.
Japanese Flower Gardens & Parks
The temperate climate, the beauty of blossoms and fragrances, everything about Spring makes the Japanese flower gardens worth visiting. During this season, a number of special events and fests are also organised in various parks.
Hiking Season
The steep mountain trails are quite risky to climb in Winters. With Spring, these trails become accessible. Mountains like Mistake, Takao, etc. offer some extremely spectacular views during Spring. This time of the year is said to be the hiking season in Japan.
The wonders of Spring are never-ending. In our series of posts on this beautiful season, let's together explore what it has in store for us.
Link :https://bit.ly/2LzPZrs